Tower-Mounted Amplifiers
November 20, 2014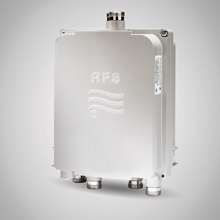 Radio Frequency Systems has announced the availability of tower mounted Amplifiers (TMAs) for the 700 MHz ABC-block, 700 MHz upper-C block, 700 MHz public safety LTE spectrum and AWS-PCS dual band with integrated 700/850 MHz diplexer. As operators roll out Voice-Over-LTE (VoLTE) services, they need to deliver the high-quality voice services no interruptions in service. This can be accomplished by optimizing the uplink signal from the user device with tower-mounted amplifiers, ensuring seamless VoLTE coverage while maintaining the high data throughput needed to deliver an optimal user experience.
Tower-mounted amplifiers are increasingly being deployed in low-band frequencies, such as 700 MHz, because the LTE is uplink-limited — and VoLTE underlines this limitation even further. The LTE system takes advantage of the added uplink gain provided by a TMA, reducing the transmitted power of all mobile devices in the cell. This reduces the overall interference that mobile devices generate in the uplink spectrum. www.rfsworld.com
Plenum-Rated Omni-directional Antennas
April 10, 2014
PIM-rated, LTE-ready antennas from Radio Frequency Systems can be concealed for improved aesthetics while meeting stringent building codes. The I-ATO3-698/2700 Series of plenum-rated, PIM-certified omni-directional antennas is designed for broadband in-building distribution of LTE, GSM, CDMA, PCS, 3G, Wi-Fi and WLAN services.
The I-ATO3 series can be used in in-building passive DAS applications. It has an optimized design to avoid passive intermodulation because of its plenum-rated, helically corrugated low-loss pigtail cable with copper outer conductor and factory attached N female connector. The I-ATO3 series also features a PIM rating  of 150 dBc @ 2x20W, and the virtually non-existent upper side lobe reduces interference with cells on other floors, delivering better patterns and superior gain and directivity. www.rfsworld.com
Business is Booming for Small Cell Infrastructure
January 8, 2014
Antenna OEMs are seeing the fruits of the growth in in-building wireless, small cells and outdoor DAS and are responding with new products and increased distribution. For example, Radio Frequency Systems (RFS) experienced double-digit growth for several of its North American product lines in 2013, following a record-breaking year in 2012. The vendor responded by expanding its product line and doubling its nationwide distribution capability.
RFS booked 45 percent growth in 2013 for its in-building broadband wireless communications products, and has invested in product development in anticipation of additional growth in 2014, adding the LTE-ready I-ATO2-698/2700JPL PIM-certified omnidirectional antenna and the ICA LITE (ICA12-50JPLLW) ½-inch aluminum plenum-rated wideband coaxial cable.
Another rapidly growing segment for RFS in 2013 was the in-tunnel market, which included large deployments of RFS technology into major projects such as Phase 2 of Transit Wireless' extensive Distributed Antenna System for the New York City subway (RFS announced its successful deployment during Phase 1 in 2012) and Phase 1 of BAI Canada's project to build a shared wireless Wi-Fi and cellular infrastructure for Toronto Transit Commission (TTC) underground subway stations.
To support this growth, RFS has doubled its distribution centers nationwide with a new distribution center in Ontario, Calif., and expanded distribution via its partnership with KGP Logistics in Warsaw, Ind. Furthermore, RFS has expanded its installation services to support increasing deployments of HYBRIFLEX.
Wireless Sales Up at CommScope
CommScope, which completed an IPO last fall, also reported growth. Its wireless segment net sales increased 3 percent year over year to $553 million in the third quarter. The net sales increase was primarily driven by ongoing capital spending by U.S. wireless operators at macro base stations as well as robust deployment of small cell DAS solutions that support capacity and densification of the wireless network. The company reported lower wireless sales in the Asia Pacific region, which were offset by higher sales to a major Middle Eastern wireless operator. Wireless adjusted operating income rose 16 percent year over year to $116 million, or 21 percent of net sales.
Sales of tablets and smart phones, as well as the impact of BYOD, have created a greater need for a mobile Internet, according to President and CEO Eddie Edwards.
"Operators are deploying more cell sites and new technologies globally to meet this demand," Edwards said. "We believe we are in the early innings of a long-term, global growth cycle in LTE, which includes coverage, capacity, optimization, small cell DAS solutions, backhaul and seamless in-building cellular."
To help speed the deployment of DAS, CommScope launched the ION platform, which features integrated guidance and intelligence, enabling wireless network operators to design, plan, deploy and optimize a DAS more quickly and efficiently and at a lower total cost of ownership.
Late last fall, CommScope's technical support team helped a U.S. carrier complete the first customer installation of the ION-U in a congested downtown area of Dallas as part of an outdoor coverage and capacity upgrade.
CommScope also branched into the concealment business with a family of equipment-integrated, modular solutions called Metro Cell Concealment Solutions, which hide the key RF path equipment in a structure that more easily meets zoning restrictions.

Indoor Antenna
October 14, 2013
Radio Frequency Systems offers an omnidirectional antenna designed for broadband in-building wireless communications is available for LTE, GSM, CDMA, PCS, 3G, Wi-Fi and WLAN services. The PIM-certified model I-ATO2-698/2700JPL for 698 MHz to 2700 MHz is useful for ceiling mounting. The antenna is made of lightweight materials and features a low-profile, off-white radome that blends into most building aesthetics. The antenna avoids passive intermodulation to ensure high performance for passive DAS applications. www.rfsworld.com
N.Y. Subway Readies for Super Bowl
October 14, 2013
After completing 36 stations in Phase 1, Transit Wireless is moving forward with Phase 2 of its efforts to provide wireless coverage in the public spaces around the stations in the New York subway, which will include a section that will be heavily used during the NFL's Super Bowl in January. Commencing this month, coverage will be extended to 11 stations in Manhattan and 30 stations in Queens.
Transit Wireless will push coverage into the area between Times Square and Herald Square, known as Super Bowl Boulevard, which will be shut down during Super Bowl week and filled with merchants, entertainers and food vendors.
"The next phase will focus first on the Herald Square and Bryant Park stations," said Transit Wireless CEO William Bayne, Jr.  "There is the expectation of massive spikes in subway traffic.  We will get those done first so there is connectivity and public safety during Super Bowl week."
Crews will parcel out additional antenna points to Times Square for more robust coverage plus additional Wi-Fi hot spots to handle the spikes in activity. The full suite of spectrum will be included, from 700 MHz up to 6 GHz, allowing use of cellular, Wi-Fi and New York City Transit public safety terminals.
As a 110-year-old venue, New York's first rapid transit system represents a difficult environment in terms of temperature, moisture, existing infrastructure and deflection points that are tough to engineer around. To withstand these conditions, the HYBRIFLEX conduit cable and transmission-line cabling from Radio Frequency Systems, which combines optical fiber and DC power in a single corrugated cable, will be used.
"We asked, 'What products can survive this environment and reduce maintenance costs?'" Bayne said. "We needed a product with rigid quality RF characteristics to withstand the elements underground."
Phase One of the network used 15 miles of cabling. In total, the network will cover 277 subway stations, enable 5,000 Wi-Fi hotspots and use about 120 miles of fiber-optic cable to transport wireless signals from in and around the stations.
However, Bayne said there is talk about extending the network via radiating cable throughout the tunnels, which would double the amount of cable used.
"There is a lot of positive pressure from carriers and consumers to provide coverage in the tunnels," Bayne said. "We have seen massive call and data session usage between the street and the platform and onto the trains. The users are trying to hold on to those call and sessions after the train leaves the station."
The four major U.S. wireless carriers – T-Mobile, AT&T, Sprint and Verizon – have already signed on to become partners in the project. Customers of T-Mobile and AT&T are already receiving service and Sprint and Verizon customers will be able to use service later this year.
As the subway expands into newly built tunnels, those routes are already being equipped with RFS radiating cable from the get-go.